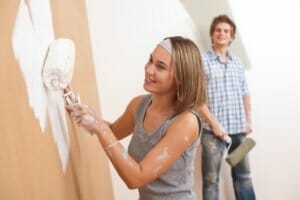 When you're trying to sell your home, making repairs and performing maintenance can improve its value.
Home repairs and remodels also help ensure a smooth escrow process by eliminating issues that might turn upduring the home inspection.
However, many homeowners aren't quite sure where they should focus their attention. It can be tough to
pick between cosmetic improvements and general home maintenance. If you're a home buyer who wants to fix up your home to sell, here's what you need to know.
Home Maintenance
Many home buyers expect their home to be turnkey, and if it's not, they'll want a hefty discount. Problems like a leaking roof, broken air conditioner, or peeling paint can dramatically reduce the purchase price of a home.
In fact, many home buyers expect a discount that is more than the cost of repairs. In the case of a serious maintenance issue, like a foundation problem, buyers may expect as much as a 15% discount on the purchase price of the house.
If your home has serious maintenance problems, make these repairs first. When you're done, if you have money left over, you can move on to cosmetic improvements that will help boost your home's property value.
Bathroom Addition
One-bathroom homes are becoming increasingly uncommon and undesirable. If your home has only one bathroom, adding a second bathroom can increase the value of your home by as much as 20%, while adding a half bath can increase the value of your home by 10%.
The trick to getting the best return on investment is to keep costs down. You can do this by purchasing modest fixtures and by converting an existing space instead of adding on an entirely new room. Work with a professional contractor as a bathroom addition can easily become a liability if it's not to code. Your contractor can help you ensure that the appropriate permits are pulled.
Kitchen Remodel
The kitchen is the heart of the home, and many home buyers will pay more for a home that has a newly remodeled kitchen. Features that home buyers look for include:
Granite or quartz counter tops
Space for a table or breakfast nook
Eco-friendly appliances
New or newly refinished cabinets
The ROI of a kitchen remodel can range from about 50% to about 90% according to Dave Ramsey. It's easier to recover the costs from a minor remodel, so if you're trying to get the best ROI possible, keep your changes modest. Avoid purchasing gourmet fixtures and appliances. If you want to expand the space to make room for a breakfast nook, get a bump-out instead of a full addition.
You're unlikely to recover all of your remodeling costs when the house sells, so this is a good remodel if you're not planning to move for a little while and you've always wanted to get a kitchen remodel anyway. This will enable you to enjoy the last few months or years left in your home.
Landscaping Upgrade
Landscaping upgrades can improve curb appeal, which is very important during the home selling process. Landscaping upgrades tend to be nicely affordable, with a typical project costing between $1,400 and $5,300 according to HomeAdvisor. Work with a professional to pick the best flowers and shrubs for the time of year when your home will go up for sale.
Work With a Real Estate Agent
If you're planning to sell your home soon, talk to a real estate agent before planning your home improvement projects. Your real estate agent can help you decide which upgrades are best for your property.
For more information about how you can improve the value of your home before selling, contact Charles L. Moles Real Estate, LLC. We'll be happy to answer your questions and provide professional advice.